Protecting Our Children from Sun Exposure
---
Kids and Some Sun Facts
Children are the most vulnerable people to Sun Induced Skin Damage and Future Sun-Related Skin Cancers

Children are more susceptible to UV radiation exposure because:
Sun exposure during childhood and adolescence increases the risk of both melanoma and non-melanoma skin cancers in later life;
A significant part of a persons lifetime UV radiation exposure occurs before age 18 ( children at playtime and school breaks are far more likely to repetitively expose themselves to the most dangerous part of the days UV Radiation
A child's skin is thinner and more sensitive than an adult's allowing more sun damage in a shorter time.
Children have more time to develop diseases with long latency, and more years of life could be lost and more suffering endured as a result of impaired health.



Schools are an excellent place to teach healthy behaviours that can prevent overexposure to UV radiation. School children are especially susceptible to fashion trends. In an environment that is geared towards learning, teachers can play a major role in enhancing children's knowledge, attitudes, and behaviour regarding sun protection. Educational programs in schools can significantly decrease adverse health effects and health care costs. ( source World Health Organisation )
---
Further Reading
WHO INFORMATION SERIES ON SCHOOL HEALTH:

Sun Protection: An Essential Element of Health-Promoting Schools

Protecting children from ultraviolet radiation with sunblock and suntan lotions.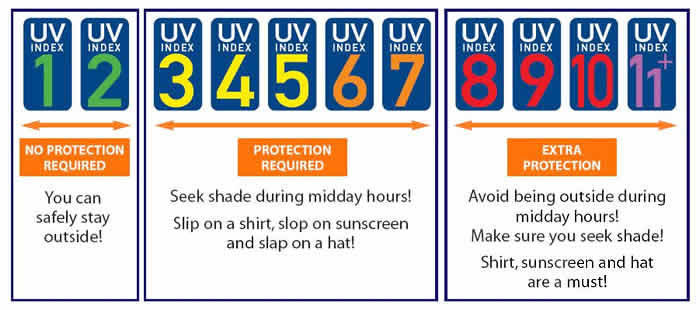 As seen from above Table if the UV Index is 3 or above it is important to practice the correct sun exposure policies.

It is interesting to note that even in our South African winters the UV index is seldom under 3, and has often led to a public misconception that sun protection policies are not required in winter.
Remember the UV A rays penetrate the earth's atmosphere almost as much in Winter as in Summer, ( Even though the UV B Rays are mostly absorbed in winter.)
---
WHO INTERSUN program
The World Health Organisation has understood the need for Schools to have a Sun Exposure education policy and have started a world-wide drive to educate school children about the Hazards of Sun Exposure.
This drive was partly modeled on success stories like the Sun Education policies of Australia were skin melanomas amongst children were reduced by up to 70% since it's inception.

Read More :
Click for more Info
---
What We Offer
KoolaSun wholeheartedly supports all drives to prevent sun induced Melanoma's and Offers Schools wholesale pricing on smaller orders of Sun Block, in order to try have a Litre Bottle of Sunscreen in every classroom, ensuring our kids have sun protection while playing at school.

Remember just one instance of Blistering Sunburn more than doubles one's chance of getting Malignant Skin Melanomas in Later Life ( US National Library of Medicine )

Practice Sun Safety Habits at your School