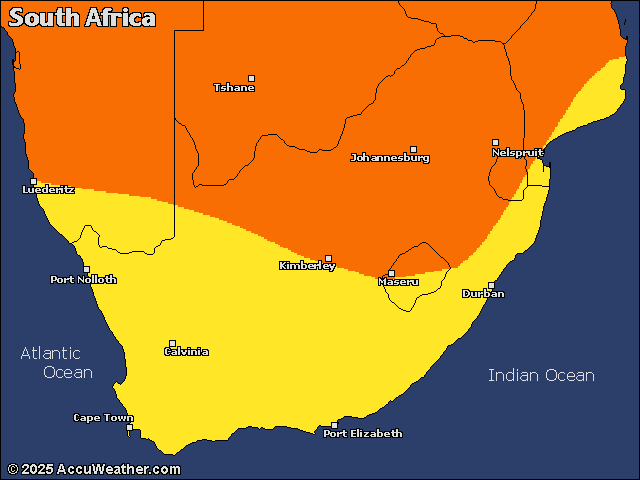 Today's Peak UV Index for SA Cities

Bloemfontein: 13.01
Ballito: 12.31
Cape Town: 12.82
Durban: 12.31
East London: 12.28
Johannesburg: 14.36
Nelspruit: 13.85
Maputo: 13.52
Plettenberg Bay: 12.82
Polokwane: 13.55
Port Elizabeth: 12.85
Pretoria: 14.05


SA UV Index Bookmark
---
What does the UV Index Mean?
The Ultra Violet ( UV ) index is an internationally recognised measure of the suns potential to do damage to our skin and eyes.

It is based on a rather complicated calculation called the McKinlay-Diffey Erythema Action Spectrum, and it basically compensates for the fact that different wavelengths of UV in the sun cause more damage than other wavelenths to ones skin.
Recommendations for Protection measures to take for the Different values on the UV index
| | | | |
| --- | --- | --- | --- |
| UV Index | Description | Graphic | Recommended Skin Protection Precautions |
| 0-2 | Low risk for most skin types | Green | Use sunblock if you have fair skin. Sunglasses are not required |
| 3-5 | Moderate risk of harm from unprotected sun exposure | Yellow | Wear sunglasses and use suntan lotion, remember to wear a hat and a shirt, try avoid mid-day sun exposure |
| 6-7 | High risk of harm from unprotected sun exposure | Orange | Wear sunglasses and use suntan lotion having SPF 15 or higher, wear loose fitting clothing and a wear wide-brim hat, make an effort to avoid sun exposure between 11 AM and 2 PM. |
| 8-10 | Very high risk of harm from unprotected sun exposure | Dark Red | Wear Suntan lotion with SPF 15 or higher, a broad brim hat and loose fitting long sleeve tops are recommended, avoid exposure to mid-day sun, wear sunglasses, drink lots of water to prevent dehydration |
| 11+ | Extreme risk of harm from unprotected sun exposure | Violet / Purple | Take all the above precautions, including: wearing sunglasses and using suntan lotion, cover the body with a loose fitting long-sleeve shirt and pants, wear a broad hat, if possible avoid sun exposure from 10 AM till 3 PM. Essential to drink lots of fluids as dehydration can readily occur with prolonged sun exposure and excessive sweating. |
World UV Index
---